Holiday Events Under $50
Home >
Popular Events Near Ashburn
The Washington Ballet & Wolf Trap Orchestra

8:00 PM | Wolf Trap National Park for the Performing Arts | Vienna VA

122 tickets left

From $49
See more The Washington Ballet
All Events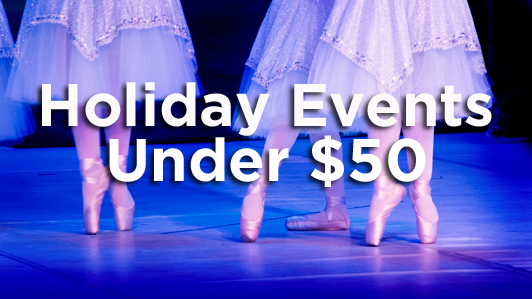 Holiday Events Under $50
You can still have fun around the holidays without spending too much. Check out some of our best holiday show deals available today!
Disney On Ice
The holiday season is here and your favorite performance on ice is back on the road. Get tickets for the whole family to experience Disney On Ice: Dream Big live in person. You can find tickets below $50 right here and catch the performance before the tour ends. Kick off the holidays with an experience you won't forget!
Holiday Theatre Events
Families come together around the holidays to celebrate the past year and each other. Start off the celebration with a number of holiday theater shows and even the experience of the circus. These shows are only available around this time of year, so get your tickets while you still can. Elf the Musical and UniverSoul Circus are just some of the shows that are bound to bring cheer this time of year. And don't forget about one of the most classic holiday shows of all time, The Nutcracker. With performances all around the country, big and small, we have tickets to see the Nutcracker all over. Celebrate this time of year with your favorite theater performances that the whole family can enjoy! With tickets under $50, what could be better?